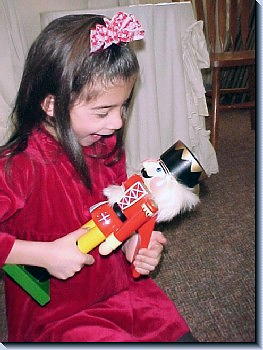 KIDS LOVE NUTCRACKERS....
and the Nutcracker Lady loves nutcrackers so put the two together and you have this fascinating website. It is designed for young ones to learn about nutcrackers.. how they are made, where they are made, and just what materials are used. All children recognize the wooden toy soldier nutcrackers displayed at Christmas time, but this is only one segment in the history of nutcrackers!
Nuts have been part of the diets of humans for thousands of years, and the instruments they have used to open the shells make a fascinating study. There is no other tool or collectible which utilizes so many materials and designs. Yes, the history of the nutcracker is a wondrous display of the creativity of man.