2017 Kid's Nutcracker Making Contest
July 1st was our annual Nutcracker Day at the museum, a day dedicated to that useful tool which has helped for centuries to provide food for the human race.

In addition to other activities for this day, the Nutcracker Museum held its first contest for students to create a working nutcracker---a utensil that would open the hard shell of a hazelnut. Instructions stated that design must be the student's own, using his or her own imagination and creativity. Any help from parent or other adult in construction was to be written in detail so judges could take this into consideration.
Below are the first and second place winners in each of the three levels of judging. Grades 1 - 6 Grades 7 - 9 Grades 10 - 12
We so proud of the great job these kids did designing and making their nutcrackers! GREAT JOB EVERYONE!
Click here to view photos of all 16 entries on Facebook
First Place - Grades 1 through 6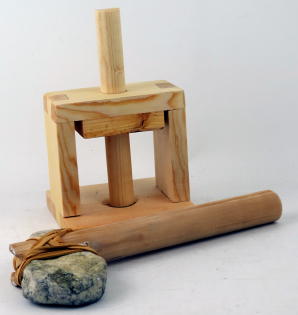 Olyn Schultz
The nut is placed under the dowel in a pit on the base, then is cracked when the stone hammer strikes the top of the dowel.
---
Second Place ~ Grades 1 through 6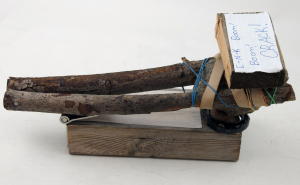 Kaia Tande, Eliza Tveton, Naomi Tveton
A rock is tied between two sticks which are fastened to a hinge. This forms a lever which will drop the rock onto the nut.
---
First Place ~ Grades 7 though 9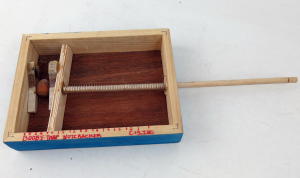 Cate Bailey
The nut is cracked between two pieces of petrified wood when the pressure from the spring is released.
---
Second Place ~ Grades 7 through 9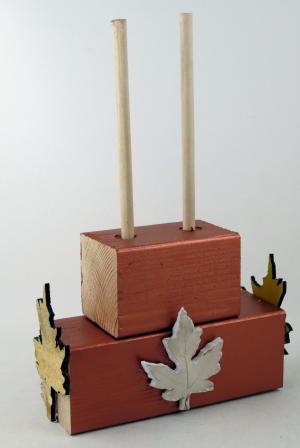 Estefaney Vazquez, Karina Alejandre
The nut is placed in a recessed circle on the large block and is cracked as the smaller block slides down the dowels.
---
First Place ~ Grades 10 through 12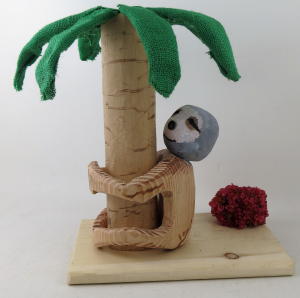 James Young, Luke Hafermann
A very creative nutcracker! The sloth, with weighted head, slides down the tree trunk cracking the hard shell of the nut.
---
Second Place ~ Grades 10 through 12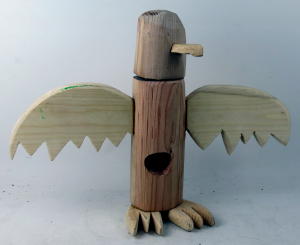 Will Piers
The eagle head and neck is lifted and nut is placed inside the hole carved in the body. Striking the head will then crack the nut.
---
Contact Us
Part of the Leavenworth Nutcracker Museum
735 Front Street, Leavenworth, WA 98826
509.548.4573
Be sure to visit our sister websites.
www.nutcrackerday.com www.nutcrackermuseum.com
| | |
| --- | --- |
| Also find us on Facebook: | |